Rossotrudnichestvo kicked off a two-day Forum of Alumni of Soviet and Russian Universities in Tanzania's Dar es Salaam on Wednesday, bringing together more than 150 participants, mostly from African nations, to discuss the development of ties between Russian and foreign educational organizations.
The key goal of the forum is to prove that
Russia values
the graduates of Soviet and Russian universities who share Moscow's vision of the present and future,
Rossotrudnichestvo's deputy head Pavel Shevtsov
told
Sputnik Africa
.
According to the deputy head, the alumni are "carriers of the ideas of Russian higher education and of cultural closeness of Russia with foreign countries."
"They [graduates] share in their majority our picture of the world, our aspirations for the future," Shevtsov said. "We always say that they are Russia's golden fund, and by working with alumni and holding joint events, we are comparing notes on the development of relations between Russia and foreign countries in the humanitarian sphere."
© Sputnik
Forum of Alumni of Soviet and Russian Universities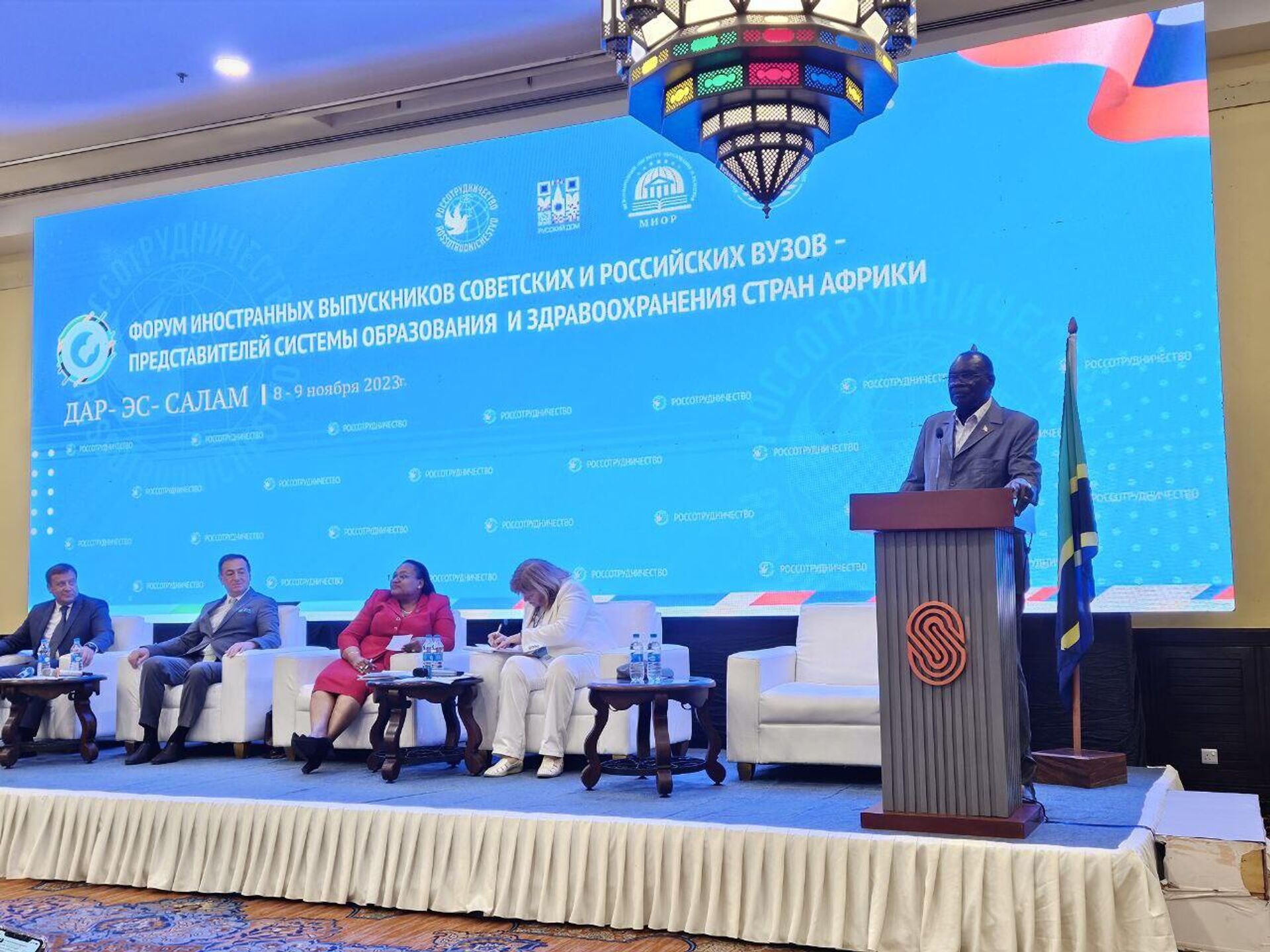 Forum of Alumni of Soviet and Russian Universities
Shevtsov also noted an upswing in demand for Russian education abroad, which he attributed to Russia's changing geopolitical role and the spread of positive information about the country overseas.
"People realize that it is possible to develop educational projects with our country, as well as cultural and scientific projects, and to improve trade and economic relations," he explained.
Russia's interaction with African countries in the field of education spans more than 60 years, with the first African students arriving in the Soviet Union in the late 1950s. To help fight the colonial West, the Soviet Union signed treaties with the newly independent countries of Africa, providing them with skilled labor.
Over the whole period up to 1991, more than 35,000 people from Africa studied in the Soviet Union, the agency revealed.
"The leaders in terms of student arrivals were the Republic of the Congo (2,653), Nigeria (2,650), Ethiopia (2,442), Algeria (2,350) and Egypt (2,121). The alumni included several presidents, prime ministers, ministers and countless diplomats," Rossotrudnichestvo said.
Angola
, for example, is ruled by an entire "dynasty" of Soviet students. For 38 years, the country was led by Jose Eduardo dos Santos, who was educated at the Azerbaijan Oil and Chemistry Institute (now Azerbaijan State Oil and Industry University). In 2017, he was succeeded by Joao Lourenco, a graduate of the Lenin Military Political Academy, closed in 1991.
Present Day
Today, Rossotrudnichestvo is stepping up its activities in Africa. For example, in October a robotics forum was held in Dar es Salaam and more than 100 teachers of Russian language from ten African countries received advanced training in Senegal.
Besides, on November 1 a preparatory faculty for engineering and technical profile, where future students of Russian universities will be able to learn Russian, began its work in Tanzania, Zambia and Ethiopia.
Moreover, right after the forum in Tanzania, a Russian
educational
exhibition will open in Dar es Salaam, where Tanzanian university applicants will be able to get acquainted with leading Russian universities, the agency said.
Rossotrudnichestvo added that the agency has plans to hold an alumni forum in Latin America in 2024.