The presidential election in Turkiye will head into a runoff, scheduled for May 28, as
none of the contenders
were able to secure 50% of votes.
Turkish President Recep Tayyip Erdogan has secured 49.40% of the votes, while his
main challenger
, Kemal Kilicdaroglu, has scored 44.96%, with 99% of ballots cast on Sunday, May 14, in Turkiye processed, according to state media. Ballots cast abroad from April 27-May 9, with more than 1.8 million Turkish citizens participating, are still being processed.
More than 26 million people have voted for Erdogan, over 23.8 million — for Kilicdaroglu, and more than 2.7 million — for Sinan Ogan of the ATA Alliance. It has also been reported that the Turkish Election Commission annulled over 1 million ballots out of 53.9 million cast. Overall, the turnout at the presidential election exceeded 88.8%. The
Turkish Central Election Commission
is expected to announce final results, along with official confirmation of the second round.
Here is what we know so far about the elections in Turkiye.
As Turks went to the polls on Sunday to cast their votes in the presidential and parliamentary elections, sitting President Recep Tayyip Erdogan expressed hope that their outcome will be good for the Turkish people and the state.
"I have been following the process since morning, the interior minister told me that voting is going on without any problems or incidents at the moment," Erdogan told reporters after casting his ballot at a polling place in Istanbul's Uskudar district, where he arrived together with his wife, at around 11:45 a.m. (08:45 GMT).
"It is very important that all our voters vote before 5:00 p.m. without any fear, to show the strength of democracy. I wish the outcome to be good for our democracy, our people and our state," he said.
Security measures at the polling station in Istanbul, where Erdogan cast his vote were strengthened, a Sputnik correspondent reported. Special forces soldiers and law enforcement officers in civilian clothes were deployed next to the site, while fences were installed in the area, preventing cars from entering the station's territory. Voters in the areas affected by the devastating February earthquakes in southeastern Turkiye also participated, with special voting containers set up in the areas where the buildings of regular polling stations were destroyed, media reported.
People arriving to cast ballots were banned from entering polling booths with mobile phones and cameras, according to Turkish media, with fines for those violating this rule.
Tightly Contested Election
Ahead of the presidential and parliamentary elections, opinion polls had projected tight races in both from the outset. Sitting President
Recep Tayyip Erdogan
and his main opposition challenger
Kemal Kilicdaroglu
were seen as evident frontrunners in the race for the country's top job. The incumbent, Erdogan, was likely to win in the first round by a small margin, polls by the Areda and Asal research centers had indicated. Areda's survey showed that 51.3% of respondents were ready to vote for Erdogan, while 44.2% - to support Kemal Kilicdaroglu. The third candidate, right-wing politician
Sinan Ogan
, was projected as getting almost 4% of the votes, and becoming a distant third. As to the fourth contender -
Muharrem Ince
, the leader of the Memleket party, he had
dropped out of the race
on Thursday. just three days before the election. However, President of the Turkish Supreme Election Council (YSK) Ahmet Yener said on Saturday that the votes cast for Muharrem Ince would not be nullified.
Ballot Count Rollercoaster
After polling stations closed and the vote count began, it became clear that predictions of
a hotly contested race
were coming true. Earlier in the night, the head of Turkiye's YSK said that Erdogan, who was nominated by the ruling Justice and Development Party and its coalition partner, the Nationalist Movement Party, had 49.49% of the votes with 91.9% of the ballots processed. Kilicdaroglu had 44.79%. This prompted a buoyed Erdogan to tell supporters in Ankara late on Sunday night that he still had hopes of winning in the first round with over 50%.
TRT Haber then reported that with 99.9% of the ballots counted, Erdogan had garnered 49.34% of the votes, while Kilicdaroglu had 45%.
With emotions running high,
a spontaneous rally of supporters
of Turkish President Recep Tayyip Erdogan unfolded near the office of the ruling party in Istanbul following the presidential election. According to a Sputnik correspondent, some of the people blocked the roadway in Istanbul near the office, but security forces refrained from any attempts to detain anyone. People were chanting, singing songs, burning flares and waving Turkish flags.
Turkiye Parlaimentary Election
Ahead of the elections, the alliance of the ruling Justice and Development Party and the Nationalist Movement Party were projected as gaining over 51% of votes, according to an Areda research center poll.
On Monday, figures showed that the People's Alliance of Turkish President Recep Tayyip Erdogan's ruling Justice and Development Party (AKP) and the Nationalist Movement Party (MHP) had secured the majority of seats in the parliament, according to state-run TRT Haber. The broadcaster cited preliminary results after the processing of ballots cast in Turkiye ended. The ruling AKP party scored over 35% of the vote, securing 266 seats in the parliament. Together with its allied parties, AKP secured more than 320 seats in the 600-seat parliament.
As to the six-party opposition Nation Alliance, it obtained more than 35%. The Alliance comprises the Republican People's Party (CHP), the Good Party (İYİ), Future Party (GP) and Democracy and Progress Party (DEVA), the Felicity Party (SAADET), and the Democrat Party (DP).
© AFP 2023 YASIN AKGUL
CHP members watch TV after the first results at the CHP building in Istanbul on May 14, 2023, after polls closed in Turkiye's presidental and parliamentary elections first round.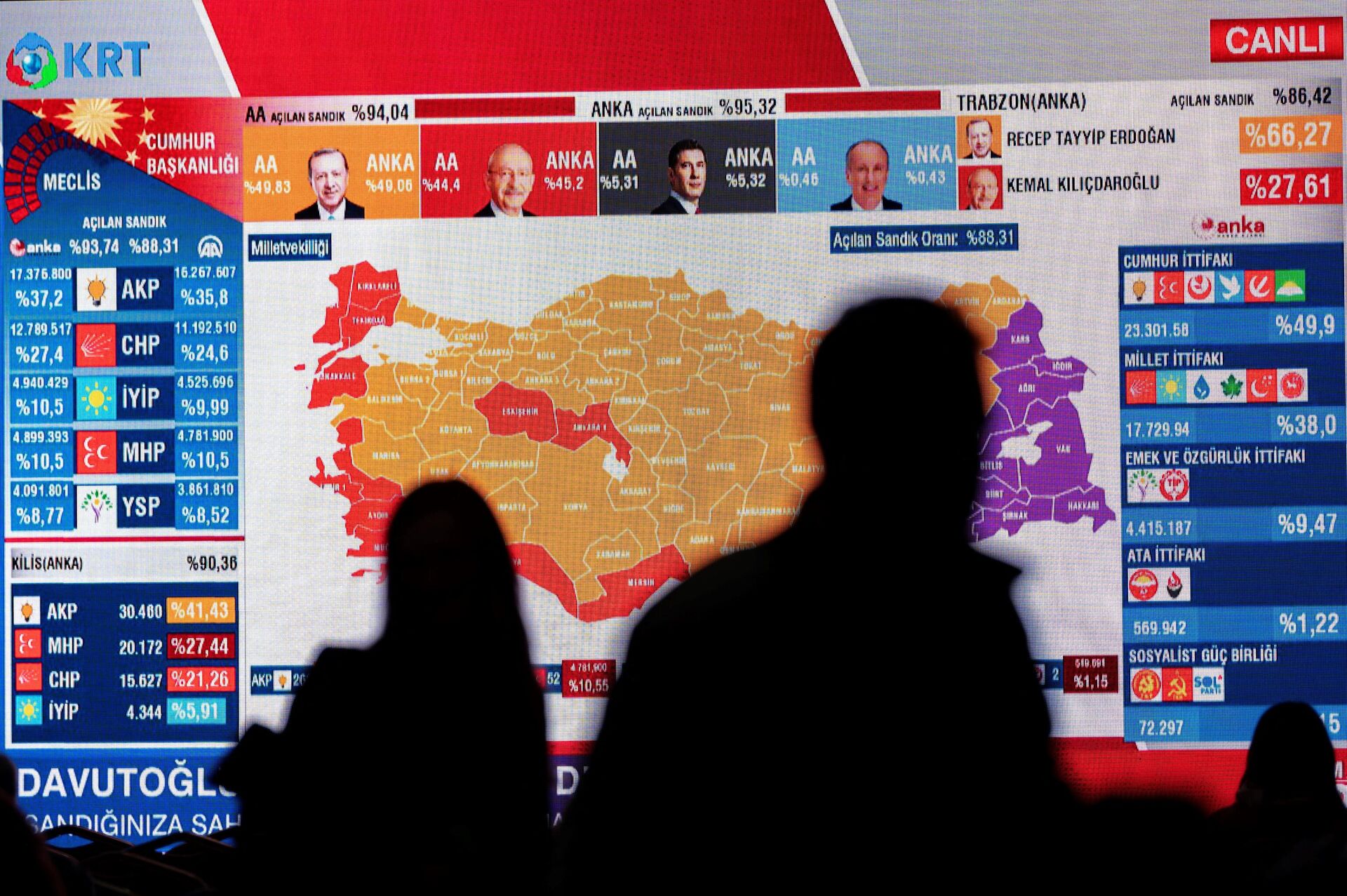 CHP members watch TV after the first results at the CHP building in Istanbul on May 14, 2023, after polls closed in Turkiye's presidental and parliamentary elections first round.
Tension-Riddled Race
Preceeding all of Monday's numbers and percentages was a tense election campaign. Erdogan and Kilicdaroglu ran neck and neck in the polls since March, with polls ranging from a
nine and a half point
lead for Kilicdaroglu, to a
7.7 point lead
for Erdogan.
Pro-Erdogan forces were incensed earlier in April after US Ambassador to Turkiye Jeff Flake privately met with Kilicdaroglu. Erdogan
slammed the move
, saying the ambassador "needs to know his place" as a diplomat.
"[US President] Joe Biden's ambassador visits Kemal. Shame on you, think with your head. You are an ambassador. Your interlocutor here is the president. How will you stand up after that and ask for a rendezvous with the president? Our doors are closed for him, he can no longer come in. Why? He needs to know his place," Erdogan said, as quoted by the Turkish Star newspaper.
Meanwhile, ahead of the vote, deputy leader of Turkiye's Republican People's Party (RPP), headed by Kemal Kilicdaroglu, told Sputnik that in the event of electoral success the opposition wanted to bolster ties with Russia.
"We are the party that believes that it is important to have good relationship with Russia. Not only with Russia, but with all of our neighbors … There are a number of problems [in Turkiye's ties with Russia] but we want to solve them through dialogue and bring the ties to a new level," Oguz Salici said.
The words do not align well with the cobbled-together accusations pushed by Kilicdaroglu, the 74-year-old opposition leader billed as a democratic alternative to Erdogan's "authoritarianism" by most Western media. He accused Russia of interfering in the country's elections just days before the crucial vote. Manipulated videos and soundbites were allegedly conceived by Moscow and aimed at discrediting the opposition.
Meddling Claims
Indeed, the third candidate, Muharrem Ince, stepped away from the race citing a smear campaign. Ince, who had faced pressure from supporters of the Republican People's Party (CHP) and their candidate Kilicdaroglu, accused of "dividing the vote" and being "a pawn of Erdogan," dropped out of the race, saying:
"Let them have no excuse if they lose the elections. Otherwise, they'd blame me only if they are defeated."
It was hardly a surprise that the election campaign in Turkiye was marred by West-instigated
accusations
of the Kremlin's alleged meddling in the Turkish presidential race.
"We immediately said that we categorically rejected accusations of interference in the Turkish electoral campaign. It is totally impossible," Kremlin spokesman Dmitry Peskov said.
"The opposition leader said he had evidence. He is yet to present that evidence. We are certain that he cannot do it because it does not exist," the Kremlin spokesman argued.
He said the Russian presidency was "extremely disappointed by such claims" and "will respect the choice made by the Turkish people" when they go to the polls to elect the next president and parliament on Sunday.
The United States was also slammed for meddling in elections in Turkiye by Turkish Interior Minister Suleyman Soylu.
"The United States is meddling in these elections ... Everyone in this country already knows this, US President [Joe Biden] himself declares this. The attack on [presidential candidate of Turkiye and leader of the Memleket party] Muharrem Ince ... it is clear where it came from, it is clear where it was coordinated. This is America. In recent days, Biden has stepped up his people in Turkiye," Soylu said in an interview.
The Turkish interior minister also accused Washington of trying to subjugate Ankara."Turkiye has a clear position in its foreign policy. The US says 'Come and obey me.' We obey the Turkish interests," Soylu said. Still earlier in the month, Soylu said that the US would attempt a presidential coup during the
upcoming election
in order to finish what was started in July 2016, when a failed attempt to remove Erdogan from office took place, which Soylu also blamed on the US.
On the day of his final campaign rally, supporters of Recep Tayyip Erdogan thronged Kizilay Square in his home neighborhood of Kasimpasa in Istanbul. Turkish flags and campaign posters for
Erdogan
were everywhere.
Erdogan, who is seeking a stronger role for Turkiye in the world politics, has criticized the West for openly backing his rival.